*NEW* School Meals with Pabulum
We are very pleased to announce a new partnership with Pabulum, who will be providing our School Lunches from January 2019. Please have a look at some of the information provided by Pabulum below, and watch out for an information pack coming home with each child in their book bag.
Menu details are available here*
*published dates may be subject to amendment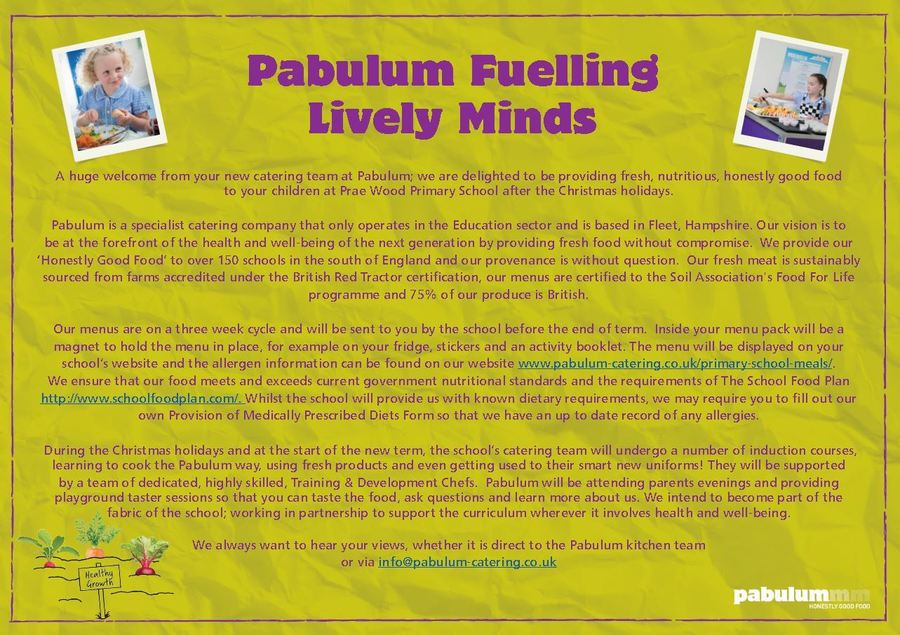 There will be added flexibility for the first 3 weeks in January to enable the children to try the menu on different days- watch this space to find out more about this new initiative....
DATE FOR YOUR DIARY- TUESDAY 18TH DECEMBER at 3:00pm

Pabulum will be offering a taster session to parents to introduce them to their menus and the provide a sample of the foods on offer. Further details will follow
AN INFORMATION PACK WILL BE SENT HOME WITH EVERY CHILD
Please keep an eye out for this in your child's book bag.
It will give you information about the ethos and approach of the company and further details about how Pabulum plan to work with our school.
A NOTE FROM PABULUM
Pabulum are delighted to provide the catering services at Prae Wood Primary School. Pabulum's Vision is to be at the forefront of improving the next generation's health and well-being, by shaping the food culture in education that inspires a passion and love of fresh food – without compromise.
We feel strongly about educating the younger generation on healthy eating by providing fresh and wholesome food, as it's through a balanced diet and healthy food choices that students can maintain higher classroom concentration levels. 94% of our food is freshly prepared in Prae Wood's kitchen and 75% of the food is British and locally sourced.
At Prae Wood Primary School we have a dedicated Pabulum team led by an experienced Chef Manager.
Available every day at lunchtime and made fresh in our kitchen we offer:
A choice of meat/fish or vegetarian main meal
Unlimited salad bar with eight delicious choices
Jacket potato alternate daily with pasta
Two choices of unlimited freshly baked wholemeal bread
Homemade dessert
Fresh mixed fruit platter
Homemade yoghurt or mousse
Our Pabulum dining experience gives every child time to enjoy our fresh food offer, whilst encouraging children to try delicious new dishes and rewarding them with a Healthy Bunch sticker or certificate.
Your current menu, along with allergens, can be found on Pabulum's website at https://www.pabulum-catering.co.uk/primary-school-meals/
Pabulum goes beyond the fresh food dining experience; our initiatives engage and inspire to help develop a deeper appreciation of food through parents' evenings, playground taster sessions, food assemblies and cookery demonstrations.
To find out more about Pabulum, our suppliers or our company initiatives please check out our website at www.pabulum-catering.co.uk for the latest blogs and news stories, or alternatively you can call us on 01252 819991.
We would love to hear your feedback, please contact info@pabulum-catering.co.uk