Community Events & Family Resources

We receive several notices, advertisements and invitations to events run in the local community. These are not run by the school and we do not take any role in the administration of such events, but we release them to parents for you to peruse at your leisure. We cannot assume responsibility for the events, nor can we endorse the events or activities.
Please hover and click on any item with blue text for further information.
Courses for Parents and Families
DSPL: Education Programme for Parent Carers of secondary school aged young people who are using a CAMHS* Clinic, Step2 or Counselling Service.* Child and Adolescent Mental Health Services. This free course, held over six weeks,will provide you as parents/carers with skills and support to help your child and improve your health and well-being. Wednesday 6th November - 11th December. For more information click here
ADD-vance: Managing the Transition from Primary to Secondary School Wednesday 4th December, University of Hertfordshire De Havilland Campus. For details please click here
ADD-vance: Managing Anxiety, for parents/carers Monday 11th November, Oxlease House, Travellers Lane, Hatfield For further information please click here and Monday 18th November, Oxlease House, Travellers Lane, Hatfield click here
Families Feeling Safe, a nine week course for parents and carers, Monday mornings from 27th Jan to the 30th March, 2020. For further information please click here
DSPL7: Gross Motor Skills and Sensory Circuits Course, Wednesday 6th November at St Paul's Church, St Albans. For details please click here
An integrated Children and Young People's Therapies Service Advice Line has recently been launched by The NHS Community Trust. This is for parents, carers and professionals who may have a concern about a child or young person and wish to discuss a potential referral to either Physiotherapy, Occupational Therapy or Speech & Language Therapy. Click here for further information
The DSPL7 Newsletter provides a wealth of information and access to courses, which may be of help to you and your family. The Autumn update was published in September 2019, please click here
BeeZee Bodies are commissioned by Hertfordshire County Council to run healthy lifestyle programmes (BeeZee Families) across Hertfordshire. We work with families who have children between the ages of 5 and 15 who may need help with their weight management and making healthier changes. The next 14 week course starts on 5th November at Verulam School.
Please click here for details.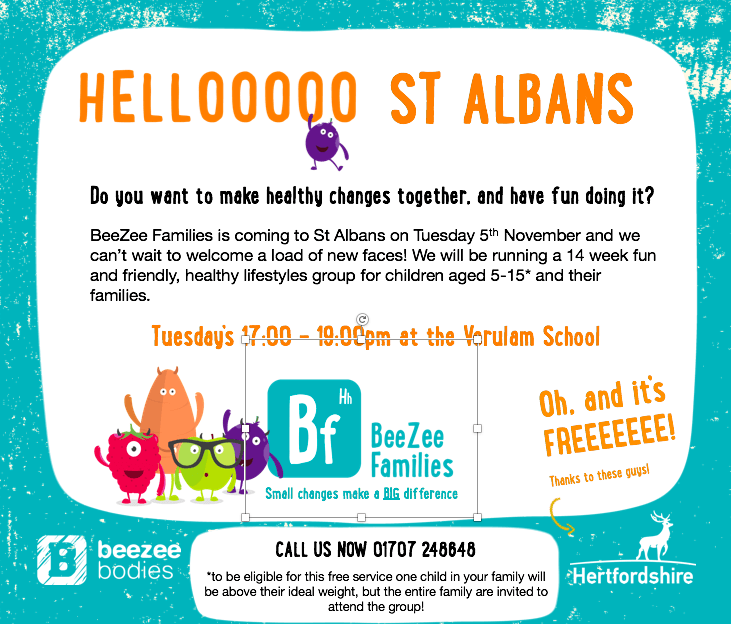 Hertfordshire Family Centre Service: Early Talk Course- Is your child aged 18 months to 2 ½ years?Do you have questions about your child's speech and/or language skills? Would you like top tips on how to support your child's speech and language development? Want to know how to boost your child's communication skills? Click here for details and registration info
Keystone Talk: Raising Confident Children and Tackling their Fears, Mon 25th Nov, 19:15-21:15. For details click here
Keystone Workshop: Primary School Maths, the basics for parents, Mon 18th Nov, 19:30. For info click here
Keystone Workshop: Teens and Sleep: The Importance for Well-being, Mon 27th Jan. 2020, 19:15 to 21:15, £19.50, The SandPit Theatre, The Ridgeway, St Albans, AL4 9NX For info click here
Keystone Workshop: Understanding and Managing Anger in Children, for parents of children aged 2-10 years. Mon 2nd Dec. 2019, 19:15-21:15, £19.50, The SandPit Theatre, The Ridgeway, St Albans, AL4 9NX Click here for more information
Vista SUPPORT SESSIONS FOR PARENTS OF CHILDREN/YOUNG PEOPLE WITH A DIAGNOSIS OF ASC These Surgeries are offered by Anne Pocock, Specialist Teacher for Autism and Magda Glinkowska, Early Years Autism Specialist for Parents/Carers. You are welcome to attend any of the dates. For more information and to check availability, please call Vista St Albans CIC on 07584 798528 to book your 30 minutes appointment.
All Surgeries will take place at Fleetville Junior School, 228 Hatfield Road, St Albans, AL1 4LW. Times available are: 9.15am, 9.50am, 10.30am and 11.05am.

Summer Term 2019 - Consultation Dates:
Monday,7th October 2019
Monday, 2nd December 2019
For further details please click here
DSAchieve
Supporting the Development of Young Children (0-5 years) who have Down Syndrome. This course is for parents / carers of children up to the age of approximately 5 years old. It will include the opportunity to look at resources and to see clips of young children who have Down syndrome engaged in formal activities to support their development.
Click here
for details
HAND News is a free online newsletter for parents and carers of children and young people (0-25 years) with additional needs and disabilities.
It has information about workshops for parents, community services for children and young people, support groups and much more.
Read all about it in the September edition of HAND News -www.hertfordshire.gov.uk/handnews
SPACE Support Group meets the second Friday of the month, term time only. Click here for details
Potential Girls, a social meeting group on the first Tuesday of every month, starting on the 2nd October for girls age 12-18 with ADHD or on the Autistic Spectrum. For details click here
DSPL Sibs Group, Do you have a brother or sister of any age with special needs? Are you in Year 3 to Year 7? Would you like to come and join our Sibs group once a month? Sessions take place at the Links Academy on the following dates
24th September 2019, 22nd October 2019, 26th November 2019, 28th January 2020, 25th February 2020, 24th March 2020, 28th April 2020, 16th June 2020, 14th July 2020
For further details, please click here
Families in Focus CIC support offers guidance & learning drop in sessions for parents caring for children with any special eductational need in St Albans. Dates from September 2019 in St Albans click here
HCC Transitions Survey
Family Services Commissioning are looking at how parents/carers and their children found the transition into school.
Do you have a child in reception or year 1?
Hertfordshire County Council are consulting with parents/carers on how it was for parents and children starting school. Please take 5 minutes to complete the survey below.
https://surveys.hertfordshire.gov.uk/s/V5N7F/
Closing date: Monday 2nd December 2019
Don't forget that, as the nights get darker, it is harder to see pedestrians and cyclists. Hertfordshire County Council have produced a slideshow to show parents and pupils how best to be seen and keep safe. Please click here to view the powerpoint.
Sustainable St Albans runs sessions showing residents how to use a Thermal Imaging Camera which they can then borrow to see where heat is leaking from their houses. The sessions take place in Harpenden, St Albans and Wheathampstead. As a result many people make changes which save them money and reduce the fuel they use. The sessions and then borrowing the camera are free. For further details please click here
Matt Bennett PCSO
Police Community Support Officer
Neighbourhood Watch
Email: Matthew.Bennett@Herts.pnn.police.uk
Tel: 01707 354192
'No Idling Zones'; please do not leave your car engine running (idling) when dropping off /collecting children from school. Please be considerate to our children & adults and SWITCH OFF your car engines.
PLEASE DO NOT PARK ON THE YELLOW ZIG ZAG LINES AT THE SCHOOL ENTRANCE, OR BLOCK ACCESS TO THE SITE AT ANY TIME
St Albans and District Dog Watch
Part of Neighbourhood Watch. Dog walkers walk many miles, see anything suspicious report it to the police. Non urgent 101; urgent / or incident taking place 999
To sign up: www.owl.co.uk - select - join, Hertfordshire, Dog Watch. Further information: stadig@btinternet.com
Hertfordshire County Council Fostering Services are looking for Foster Families
Could you take up the challenge and inspire children and young people to fulfil their potential?
If you are passionate and enthusiastic, and have at least one spare room in your home, you could foster for Hertfordshire!
Call: 0800 917 0925 for more information or visit www.hertsdirect.org/fostering or www.facebook.com/hertforshirefostering
NSPCC - Following on from the recent assemblies to the children, please click here for the Remember to Speak out. Stay safe poster from the NSPCC. These posters are also to be found around the school.
If any child is worried about something, speak out to a grown up they can trust, or talk to Childline on 0800 1111 or visit childine.org.uk/kids for more information.