Learning during lockdown
We have seen some fantastic examples of wonderful work done during Home Learning. We are so impressed with what you have all been doing that we thought we would share a few examples each week. We hope you enjoy these regular updates...
Summer B, Week Seven - End of term!
We have enjoyed a final week of celebrations at Prae Wood school, as we look back on all that we have achieved together in the most trying of circumstances. Our teachers really enjoyed seeing so many returning for a class picnic on the field and, although we can look back to everything that we have done this year, we are also looking forward to new beginnings in September. Mrs Welland has put together one last video for us all to share, which we hope you will enjoy. Just click on the image to view it.
*******************************************************
Summer B, Week Six
In the penultimate week of term, which was 'Transition Week', teachers continued to be impressed with the quality and amount of work being sent in for them to see, as we all reflect on the year that has nearly finished and look forward to new challenges and fun for September. Thank you to all of you who have engaged so well with your transition activities. Your teachers are enjoying reading your messages and questions and thinking about how best to answer them, and we are all looking forward to seeing as many of you as possible for your class picnics on the field during the last week of the academic year. Week seven promises a few surprises too, so don't forget to check back one more time before enjoying a well-deserved Summer break
*******************************************************
Summer B, Week Five
Week five has been a busy one, with pupils at school and at home engaging in many different sporting activities and challenges as part of our Sports Week. We are also delighted to have been awarded a special certificate from the Youth Sport Trust- well done Mrs Paine and all our Prae Wood pupils! Click on the image below to visit our Sports Week 2020 page and see what everyone has been up to, as well as finding out more about our fantastic award....
And you can click here to see all the amazing drawings submitted for our 'Design a Mascot' competition, as well as the winning designs...

*******************************************************
Summer B, Week Four
This week the Nursery children have been exploring boats as part of their 'Transport' topic. They have had a busy week making boats, looking at books about boats, making boat shaped food, writing and sequencing numbers, writing letters and names, using shapes to make pictures and even building dens for fairies! Meanwhile, in Reception this week we learnt all about transport on land. We read the story Mr Gumpy's Motor Car and wrote a postcard from Mr Gumpy, explaining all about his trip. We also enjoyed making our own car models using recycled materials. Year 1 have continued to explore Africa, looking at how Kenya is similar and different to the UK. They looked into how plants change over time, working out a plant's life cycle in Science, whilst looking at how to make sounds loud or quiet in Music. In English, Year 1 focused on the story Anansi and explored how to use question marks and exclamation marks, whilst in maths this week, Year 1 were learning about place value to 100 using dienes, tens/ones grids and 100 squares. Year 2 have been exploring fractions of shapes and they have been solving problems based on finding halves, quarters and thirds of a given amount. In English they have designed and written an explanation about a crazy contraption. Science gave them the opportunity to find out more about rock pools and the creatures that live in them. They have also compared seaside holidays with the past and the present day. Mrs Emery and Miss Clarke have loved seeing the Year 3 childrens' work this week. In Science, the children have been finishing their own chosen project based on fossils, the human body, friction or magnets. The children have created some amazing PowerPoints showing off their knowledge. In English, they have looked at the animation The Girl with the Yellow Bag on Literacy Shed and thought about their own inventions made from recycling. Then, they wrote their own stories thinking carefully about describing their character and setting. In maths, the children have been learning about shape and identifying parallel and perpendicular lines. Year 4 packed their bags and went camping in either their imagination, their homes or their gardens! They had to design a campsite brochure as well as participate in all sorts of camping tasks. In maths, they worked on their money skills. From hearing inspiring stories around the campfire as part of RE to creating digestive waste for science, the children had a fun week. Inspired by Macbeth, Year 5 have been busy in creative week. We've been overwhelmed by the quality of the work they've produced – gruesome, illustrated spell poems, gory book covers, 3D stage sets and musical performances inspired by the play. A special shout-out for the beautiful harp piece recorded by Ela using a musical score from the BBC School Radio version of Macbeth. Continuing with the musical theme, in maths the children have also been planning a summer music festival which involved identifying their line-up, mapping out the space and costing out the event to see how much profit they could make! Year 6 worked towards finishing off all their projects in anticipation of some sporty fun next week!
*******************************************************
Summer B, Week Three
As part of their transport topic Nursery have been exploring 'diggers' this week. They have had fun using play-dough, creating digger lands with cereal, ordering objects by size and estimating amount. Reception have been learning about sea transport. They read the story Who Sank The Boat? and wrote about who they thought sank the boat and why. Pupils also had lots of fun doing a boat experiment. They made boats using materials they could find at home and tested them in water to see which ones floated. Year 1 have continued to explore their topic of Africa looking at the different landscapes seen throughout the continent. They have also learnt some Swahili whilst reading their book For you are a Kenyan Child which follows a day in the life of a Kenyan child. In maths, Year 1 have explored the concept half and quarter and have undertaken lots of interesting activities around these. It was the longest day this week and, in Science, Year 1 explored the sun and how its position changes in the sky during the day. They learnt about how the longest day means we have the sun in the sky for the longest time giving us the most amount of day light. Year 2 have been writing their own stories based on The Journey and checking calculations using the inverse operation. They used Purple Mash to create their own branching database, made seaside habitats for their models and music using household objects. Pupils have had a busy week in Year 3. In English, they have been looking at adverts. They have looked at features of adverts and been on a hunt for slogans around the house and then created their own advert. In maths, they have been practising column addition and subtraction. In computing, the children have created their own postcard, taking into account how changing an image can make your postcard look better. In science, they have chosen our own project based on one of the topics they have studied this year and, finally, they have also continued reading Aladdin and the Genies in guided reading.   Year 4 have been working on reports in English and having fun designing their own. For maths, they have been building on their ability to use formal written methods by writing their own mastery questions! The teachers look forward to trying to solve some. For science, pupils learnt more about teeth, creating and labelling a diagram. They also identified the capital cities in Modern Europe, made lotus flowers containing our wishes for the world and studied the weather in French. This week has been a bit different for Year 5. As they have been unable to complete their Bikeability and Distractions training in school this year, they have been doing a range of activities at home to develop their understanding of road safety. Year 5 have been looking at different distractions and testing out the impact these have on their reaction times. In addition, the children have been looking at maps of the area around school that show accident locations and types so they can evaluate danger zones in their local area and identify safe walking routes to school. Finally, they've been exploring the Bikeability website to develop their understanding of cycle safety and were set the challenge of planning a family bike ride! This week Year 6 have continued with their creative project and have produced mood boards based on their favourite design movements and a floor plan of their dream bedroom. In maths, they investigated patterns and numbers sequences with a bacteria theme. To conclude our 'Crime & Punishment' topic, the children considered whether or not prisoners, John, Clarence & Frank, actually managed to pull off the biggest escape from prison in history. Guided reading was based on our class book Orphans of the Tide and the children were asked to write to Mrs Sheppard to convince her that this book should be compulsory for all Year 6s to read. Finally, they have all been looking after their sunflowers and lots are really starting to grow now.
Well done to Rae and Mia who, along with some of their friends and fellow Prae Wood pupils, set about fundraising for NHS Charities Together. The girls were inspired by Colonel Tom and they also wanted to have a challenge whilst on their daily exercise and started tracking the miles they did on their walks/runs/scoots/bikes to see if they could complete enough miles to cover the distance from St Albans Herts to St Albans USA, a whopping 3869.70 miles! They recently completed their challenge, and in so doing raised over £1000 for their cause.
Well done to Rae and Mia, and everyone who joined the challenge and showed just how far you can get when you work together as a community!!
WELL DONE TO EVERYONE WHO TOOK PART:
Rae and Mia, Chloe and Ayden, Christian and Samantha, Valentina, Penelope and Yasmin, Ayana, Freya and Ella, Toby, Thomas, Lucas, Jake and Brody, Hope, Finn, Lottie and Isla, Emma and Joshua, Zachary, Sonny, Aulay and Beatrice, Krish and Dhruv, Logan and Noah, Joshua M, Layla, Amelie and Bella, Eve and Harry, Brendan, Sienna and Carter, Alexander and Eleanor, Noah F, Lauren, Chloe, Daisy and Poppy, Myles, James and Sophie, Xavier and Xander, Amber and Ronia, Sophie, Alfie, AND Max!!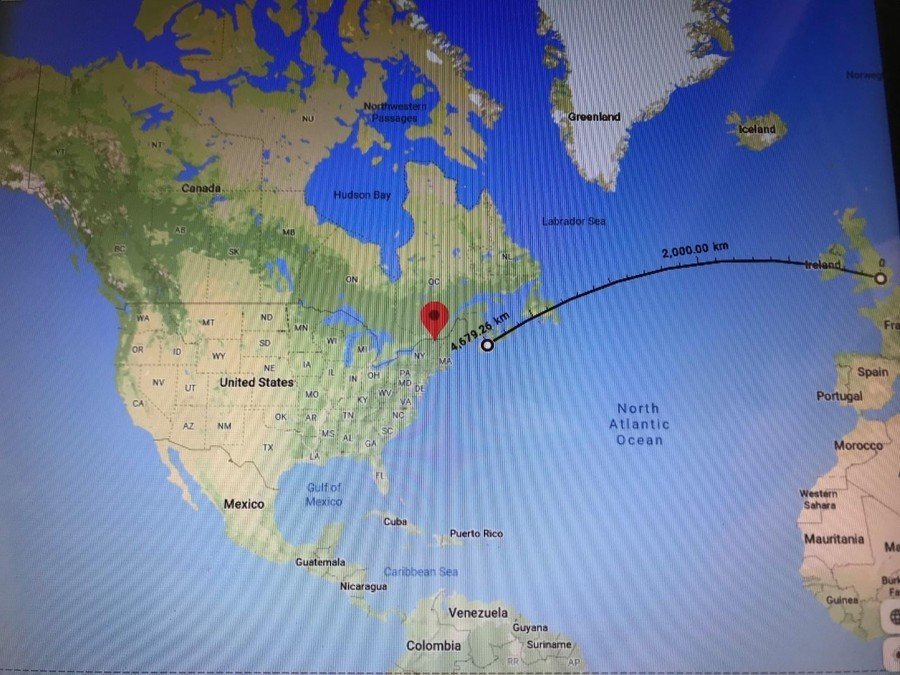 *******************************************************
It has been an interesting week for Year 5, as they received the feedback from the panel of assessors on their Public Speaking challenge submissions. Their teachers and the panel were so impressed with the level of work that we have put together a selection for you all to see on a separate page. Click on the image below to see some of the presentations from the Year 5 Public Speaking Challenge 2020.
This week Nursery have been learning all about trains as part of their travel and transport topic. They have been busy looking at books about trains, making trains out if 2D shapes, building train tracks, sequencing and writing numbers. Reception have enjoyed reading the book, The Lighthouse Keepers Lunch. They thought about the events in the story and wrote about what happened in the beginning, middle and end. Some of them created their own Lighthouse models and even made numbered lighthouses, by ordering numbers from 1-20. In maths children explored halving and had lots of fun creating pizzas by cutting the ingredients in half! Meanwhile, Year 1 have been exploring non-fiction writing in English. They have been writing about the animals who live in the African Plains, which has linked to their topic on 'Africa' where this week they have explored the difference between the animals that live in Africa and the United Kingdom. In Science this week, Year 1 have looked in seasonal changes, exploring what happens in the season for Summer. They paid close attention to the weather, plants and wildlife as well as what they wear and do during this season. All week they have paid close attention to shape in Maths, exploring the properties of 3D shapes whilst continuing with programming and algorithms in Computing. Pupils in Year 2 have been drawing different sea creatures and beautiful sea pictures. They have been learning about and writing interesting shark fact sheets. In maths the children have been solving very difficult balancing problems! In Year 3 this week, pupils have been looking at an abandoned house in English. They have been using this house to think of interesting description and then creating their own stories around it. In maths, they have been looking at the 24 hour clock and have practised changing between the 12 hour clock and 24 hour clock. They have been reviewing all their learning in science on plants, and creating posters and diagrams of their learning. For topic this week, the children have been looking at ordnance survey maps and the symbols they include. Lots of them have been reading a variety of books at home and they have also been reading Aladdin and the Genies in guided reading. Year 4 have been designing their own, rather intriguing inventions and using explanation text skills to write about them. In maths, they have been revisiting things they have already learnt in Year 4 about fractions and decimals. E-Safety continues to be an important area they are learning about and Year 4 discovered more about the adventures of Winston and Kara. Science had an egg-cellent egg-periment about teeth using an egg, toothpaste and vinegar! In their second week back, Year 5 have spent their English lessons focusing on their class book, Holes. They've also been receiving video and email feedback from some amazing Public Speaking Judges, aka Mrs Sheppard, Mrs Lockwood, Miss Rogers, Ms Charsley, Mrs Cohen, Mrs Paine, Mrs Robinson, Mrs Welland and Mrs Mooney – a special Year 5 thankyou to all of them!! In maths this week, they've been learning all about volume and capacity and in Science they've carried on with their 'forces' topic. Good job Year 5! Year 6's reading activities were based on their class book, Orphans of the Tide. They visualised one of the characters (Finn), used a venn diagram to compare two other characters (Ellie & Seth) and answered comprehension questions about the chapters they listened to this week. In English, they wrote a story based on Rag 'n' Bone Man's music video called Skin, produced a police report about a stolen item from Harcourt Manor and a formal thank you letter from the owners of the stolen item to the chief inspector. As part of a creative interior design project, they researched different art movements and produced a mood board to show the main colours, patterns and shapes used. In addition to this, they created wall-paper based on their favourite design movement. Finally, they researched the french horn in music and used their findings to create a poster. They are also doing a great job looking after their sunflowers...they are all growing much more quickly than both Miss Rogers' and Mrs Robinson's!
Thanks to Coco in Year 2 for sending in her submission for a hopping 'Beat the Teacher' challenge- we love to receive them. Well done Coco!
Finally, a special mention to Henry in Year 2, who worked with his sister and friends to make Hama bead creations, which they sold to raise money for 3 charities. The St Albans District Food Bank, one of their nominated charities, were very grateful for their efforts and published their thanks on social media, along with some examples of the super items the team made. Well done Henry!
*******************************************************
Summer B, Week One
Nursery's topic for this half term is ' Travel and Transport'. This week they have been learning all about air travel. The children have been busy making and flying paper aeroplanes, creating junk model aeroplanes, looking at aeroplane books, practising their letters and sounds, washing cars, writing numbers and doing a variety of craft work. Reception are also investigating 'Travel and Transport'. They began their topic by looking at and writing about different modes of transport. The children made maps for the different types of transport and even for space transport! Some were inspired by the rocket launch last week and made their own rockets and tried a balloon rocket experiment which was great fun! Year 1 have explored poems in English, creating their very own poem about a flower. They used adjectives to make their writing more interesting and help to describe the flower. In Maths they have learnt about turning using the terminology full, three quarter, half and quarter turn, as well as the language used to direct and describe positioning. This linked closely with their Computing, in which they continued to explore algorithms. Year 1 began their new topic, 'Africa', and immersed themselves within it as they explored some interesting facts about the continent. This half term Year 1 will continue to explore plants in Science and this week they started by identifying and naming plants in their own garden and nearby parks/woods. Year 2 went on a virtual trip to Southend! We saw the sights and in maths we have been analysing data about favourite ice cream flavours. Which flavour do you think is the most popular? We have been learning about plastic waste and designed some amazing posters! Year 3 have been reviewing fractions in their maths lessons, in particular, they have been practising adding and subtracting fractions. In English, they have been looking at the poem Don't by Michael Rosen and they have used poetic devices to make their own version of this poem. For this half term, Year 3 have a new topic of 'Local Geography' and they spent some time doing some activities to get them thinking about geography in the UK. As it is sustainability week, they used their RE lesson to think about our responsibilities to the earth and how we can look after it better. Year 4 have been looking at 'Wallace and Gromit' inventions, the Snoozatron and the Tellyscope to begin with! They are now working on creating their own invention and applying the explanation text skills they have been developing. Next week will reveal the children's ideas so we will be able to update you on those then. Watch this space! Telling the time has been lots of fun, with children making examples of their own clocks- one was made from Lego characters! E-Safety is really important as we all know, so Year 4 have begun by looking at the adventures of Winston and Kara and applying our SMILE skills. A new unit in science of 'Teeth and Digestion' was started too with a look at teeth and, next week, experiments begin! In their first week back, Year 5 have worked hard to complete their Public Speaking Challenge by recording their speeches and uploading them to OneDrive! Their teachers were blown away by their incredible effort to complete such an ambitious challenge, one that all Year 5 classes would admit was challenging - and that's when they're in school! The next phase of their Public Speaking journey is to pass the speeches over to a panel of esteemed judges, so that the children can be praised for their hard work – just like they would have been if they were doing it in school! Well done Year 5 – we couldn't be more proud!! It's been a busy week in Year 6! The children have been growing their sunflowers, which were delivered to each of them during half term by Miss Rogers & Mrs Robinson. They have started a detective topic and have written a description of an item which was stolen from Harcourt Manor, as well as an interview by the chief inspector with a witness to the crime. In guided reading they have read a text about hedgehogs and produced an acrostic with facts they learned from the text. They also watched Rag 'n' Bone Man's video for the song Skin and produced a character analysis detailing stated and implied facts. In maths this week they have investigated how to make the largest and smallest numbers, explaining the process they used to find them. Finally, they tied up their crime and punishment work from last half term by summarising punishments in the 3 eras studied and explaining which era they would most like to live in and which they would want to avoid.
Sustainability Week
Also, this week, it was Sustainability Week and although we couldn't celebrate it via our Eco Warriers, Mrs Chapman prepared an assembly to challenge all Prae Wood pupils to think about how we can reduce our consumption, reuse items by looking after them or transforming them with some thought and effort, and recycle things that we might otherwise throw away into land fill sites. Thank you to all of you who took part- we had some fantastic submissions. Just look at the brilliant outfit modelled by Aleesha, as well as all the colourful, informative and beautifully illustrated posters, which carry an important message about keeping plastics out of our seas. We also love Zoe's tube animals. Well done Prae Wood!
Personal Best Challenge!
Before half term we challenged Year 1 to Year 6 children to set themselves a PB - a personal best physical challenge that they could work towards completing over half term. It was inspired by Mali in Year 5 aiming to achieve 15 steps in a walking handstand! Well done to those children who challenged themselves.
Mrs Chapman was also delighted to receive a video from Nicholas who proudly beat her in the 'Beat the Teacher' hopping challenge that he had set- Well done Nicholas!!
*******************************************************
Half Term
Half term saw our team of amazing teachers take on challenges set by pupils at Prae Wood. They had to do all sorts of weird and wonderful things but they all tried their best and achieved some amazing results! Click on the 'Beat the Teacher' image below to see what on earth they got up to, then have a go yourself and let us know if you can 'Beat the Teacher'....
*******************************************************
Summer A, Week Five
As part of our water topic, this week Nursery have been thinking about keeping clean and healthy eating. The nursery children have been busy: keeping fit, trying new healthy foods, making fruit salads, printing with fruit and vegetables, writing numbers, and releasing butterflies into the wild. Meanwhile, Reception have enjoyed reading the story The Selfish Crocodile. They wrote speech bubbles for the main characters and a letter from the Crocodile to the Mouse thanking him for his help with the Crocodiles toothache! Pupils have also explored subtraction in maths and have made their own jungle and crocodile pictures and models. Year 1 have been exploring money in Maths. They worked out how to make specific amounts using coins to 10p. In English they rewrote the story Tom and the Island of Dinosaurs using adjectives and conjunctions to increase the interest in their own writing. Year 1 have also explored ships from the past and present, seeing how they are similar and different, whilst continuing to investigate growing in Science, as well as completing their D/T project to make a moving vehicle. Year 2 have been very busy this week carrying out surveys, then designing and making delicious sandwiches, omelettes, wraps and muffins. They have also been solving a variety of 2D and 3D shape problems. Year 3 have been continuing to look at The Dark in English. Pupils have been planning and writing their own stories including fronted adverbials and dialogue. In maths, they have been reviewing learning for the half term. They reviewed multiplication, time, fractions and measurement. For science, they created a piece of art using materials from outside. They've done lots of work this half term on their topic The Romans and, this week, looked at the daily life of a Roman child. In maths this week, Year 4 have been learning how to interpret data and produce different graphs and charts. The children have also had fun creating their own sound poems based on The Sound Collector by Roger McGough. The teachers have been very impressed with Year 4's PowerPoint presentations about Queen Victoria and Queen Elizabeth II. Year 5 have continued their epic public speaking saga by making the final edits, analysing good performance techniques and beginning to think about recording their speech, ready to share with the rest of Year 5! They have also enjoyed their science project where they have been experimenting with the forces involved in parachutes! Year 6 invested time this week code-cracking in maths, with tricky ciphers and puzzles to unpick, as well continuing to develop their creative writing. They also did some work on their social media presence and how to manage online contributions as a continuing part of their e-safety learning.

It's been another busy week- we hope you all take some time to rest and recharge over the sunny half term holiday
Beautiful Butterflies...
With much excitement, keyworker children discovered that beautiful butterflies had hatched from their chrysalises over the weekend in school. After warming the butterflies up in the sun, they released them on to the flowers by Redwood. Look out for them when you come back to school! The friendly butterflies spent time on many of the childrens' hands. To remember the butterflies, the children made beautiful prints. It was also a week of musical rainbows with singing, making egg shakers, creating tambourines and sticking together Elmer-inspired rain shakers.
*******************************************************
Summer A, Week Four
Nursery children have been learning about the sea this week. They have been busy making lighthouses and rainbow fish. They have also been playing outside and practising their numbers. Reception, too, have been exploring with their theme 'Under the Sea'. They read the story Sharing a Shell by Julia Donaldson and Lydia Monks and retold the story in their own words. They also enjoyed making their own under the sea art including crabs, turtles, jellyfish and even made their own aquariums. In maths they explored addition by drawing animals and adding how many legs they had altogether. Year 1 have been learning all about division in maths by grouping and sharing. They created their own story based upon a magic bed and explored the difference between plants in science. In topic they learnt how planes have changed over time and made their very own rain maker in music, whilst continuing to explore algorithms in computing. In Year 2 pupils have been measuring all over the place! Some of them measured in their gardens, some in their kitchens and some in their living rooms. They also write non-chronological reports about the UK and drew the flags. In English this week, Year 3 have been looking at The Dark by Lemony Snicket. They have looked at personification and how the dark in the story is made to seem like a person. They then looked at creating their own characters based on Laszlo. In maths, they have been looking at adding and subtracting fractions. Pupils have continued their work on the Romans and in particular looked at Roman Britain. In science, they have been looking at plants and this week we looked at how water moves through a plant. Meanwhile, Year 4 have been creating royal self-portraits as part of their history topic on Kings and Queens. In maths they have been practising written multiplication and division. Year 5 have spent a lot of time working on their Public Speaking project. They now have a fully written first draft and have even shared it with peers in their class in order to give each other feedback! In maths, they've been focusing on statistics and thinking about the rational conclusions you can draw from data. They also spent some time considering some of the irrational conclusions that you can draw from data and had good fun turning those into silly front page news stories!! Their jam-packed week also included carrying on with French learning, creating album covers in music and parachutes in science, and learning all about Time Zones in Topic! Year 6 have been really busy this week and we wanted to celebrate some of the art they have completed. We challenged them to create a virtual high five to send to local residents who are shielding. Along with this, they have been writing stories about weathering the storm and we look forward to reading them next week.

*******************************************************
Big Pedal, Big Breakfast and VE Day
Children across the year groups have taken to the their bikes, scooters and even skate boards and roller skates as part of our Big Pedal week, many of them tracking their progress and working out how far their cumulative distances travelled could take them. Such huge efforts of course deserve a reward and many families enjoyed a Big Breakfast together on Friday morning. And, of course, it was a day of celebration and commemoration across the country for VE Day on Friday. We love Matilda, Esme and Florence's wonderful 40s-inspired hairstyles, as well as their delicious-looking cakes and bakes!
Thank you for sharing your photographs with us!
Summer A, Week Three
Nursery's topic is water and this week they have been learning about weather. Reception have also been exploring the weather and made their own weather pictures, charts and models. They also wrote about why we like rainy days. In maths the children explored doubling and made their own doubling pictures. Year 1 have been exploring steam trains, looking at when they were made, where they ran and for how long. Sticking with the transport theme, they learned about how cars have changed over time in Topic. They explored using arrays in maths and continue to learn about plants by labelling at the features of a flowers. Year 2 have been working very hard, writing their own stories, solving problems involving money and practising their times tables using Times Table Rock Stars. They have been busy setting up a seed investigation, learning about the different continents and making musical instruments. Year 3 have been reading, drawing and designing, as well as completing some maths problems. Have a look at George's bear design; Habiba's observational drawing of a Euphorbia stem and the reimagined book covers of Bella and Clara. This week in Year 4 pupils have been continuing the story of a pick pocket called Toby. In maths Year 4 have been practising written methods of addition and subtraction. They have also been planning their own computer game. It has been great to see so many Year 4 pupils doing the Big Pedal this week and getting outside to do exercise. Meanwhile Year 5 have revisited Fractions in maths, created their very own animations at home and spent more time in preparation for their upcoming Public Speaking - they've even learnt a bit about how to send emails!! Tommy made some bunting out of coloured card, decorated it with Union Jacks and hung it in his garden to celebrate VE day. We include an amazing photograph of Tommy's great grandad Tom Woodruff who joined up in 1941 at age of 20, and went to North Africa and saw action in Italy. For Year 6 home learning this week has involved nonsense poems and emotive writing in English, adding, subtracting, multiplying and dividing fractions in maths and visualising in guided reading. As well this, we have a stick family made by Philip and some home baking by Sophie.
Not bad for a 4 day week! See above for some extra big pedal, big breakfast and VE day photos....
*******************************************************
Summer A, Week Two
Nursery's topic is Water. Children have been learning about plants this week. They have been busy planting seeds and drawing flowers. They have also been busy with counting/number activities. Reception have been learning about flowers and how they grow, making their own flower pictures and labelling them. They also explored 2D shapes and enjoyed reading 'The Night Pirates', which inspired children to make their own pirate ships and treasure maps! Year 1 have been working hard both indoors and out, getting creative in the garden with scavenger hunts and planting, and practising musical instruments. As well as this they've practised telling the time with clocks they've made themselves. Year 2 have been working very hard all week, particularly in Maths. They've used coins to make different amounts and Alexander even made his own shop! The children wrote recipes too. Can you see the imperative verbs that Eva has used in her fairy cakes recipe? Year 3 have been investigating parts of a flower and plants, as well as learning how to multiply using arrays, number lines and the grid method and started their new topic; 'The Romans'- we've seen some lovely mosaics. They have also been developing methods for persuasive writing, with for and against arguments about whether the Yeti is real or not, with text based on their story 'The Abominable Snowman'. Year 4 have been have been focusing on shape and symmetry as well as exploring the properties of triangles and quadrilaterals, whilst in topic, they have been learning about British Monarchs and in particular, King Henry VIII. They have had fun creating an advert for a wife for Henry! Members of Year 5 have been very busy this week completing science experiments, developing emotive writing and consolidating their knowledge of shapes' areas and perimeters, as well as taking part in 2.6 challenges (Henry P completed a 2.6 mile run!), thereby fostering their mental well-being just as much as their academic abilities. Year 6s home learning includes various images, ranging from senses poems and emotive writing in English to album covers & Beethoven research in music; crime and punishment timelines in history to E-safety board games in computing and ultimate question storyboards in RE.
What a busy week! We hope you enjoy the slideshow from Week Two!
*******************************************************
EASTER HOLIDAYS

Mrs Welland set all year groups a task for the Easter Holidays to create a drawing to depict the challenges we are all experiencing and to express our thanks to keyworkers during these difficult times. A huge well done to everyone who completed and sent in a picture, Mrs Welland hopes she has managed to include them all. A big thank you also to Libby, Henry, Alfie, Lotta and Maya for their wonderful recordings of the poem.