Beat the Teacher!
Before half term we asked you to give us some challenges. We got lots and lots of suggestions, so we have chosen some to complete. Have a look and choose one (or more) to try for yourself. Let us know if you manage to 'Beat the Teacher'!........
How do you think they will get on?
Mrs Welland could not resist the challenge set for her by the children who were attending Prae Wood in the week before half term, which was to walk around the lake dressed as a crocodile, but which Mrs Welland really thought was to see how many people she could make smile. We think that she must have brightened the day of anyone who saw her in the park....
Mrs Lockwood took on the challenge of trying to cycle and keep a balloon in the air. Unfortunately it was a bit of a windy day, so the balloon was replaced with a beach ball. The challenge was set by the children who have seen Mrs Lockwood cycling through the park on her way to and from school. Click on the videos to see how she got on!
Are you surprised by their hidden talents?
Amelia set Mrs Lesnik a challenge to see if she could make herself feature more than once in a photograph, without using editing or photoshop once the shutter had clicked. We think she did an amazing job!......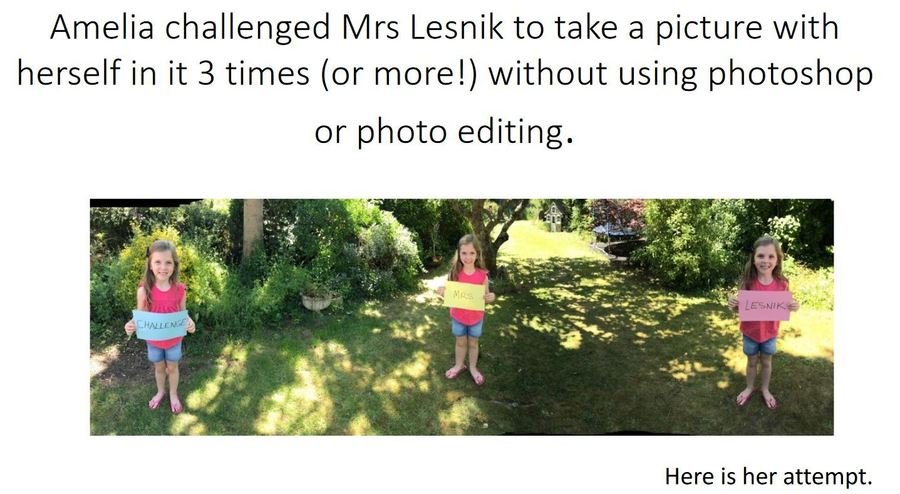 Did they show a competitive nature? Did they show resilience?

Mrs Robinson and Miss Rogers kept up the food theme, and accepted the rather tasty challenge to see how slowly they could eat a jaffa cake, BUT, they decided they would prefer to see if they could beat the world record and test how many they could consume in a minute
And here is a little challenge for you all, from a very special guest. Let us know how you get on with Santa's challenge
Can YOU 'Beat the Teacher'? Choose a challenge and let us know how well you do....