UNIFORM
We strongly encourage all the children to follow the school dress code.
Our colours are winter jade and grey. In the summer children may wear winter jade checked or striped dresses. Boys and girls may wear grey shorts.
Sweatshirts and polo shirts with the school logo can be purchased either from the Stevensons shop in Victoria Street, St Albans
http://stevensons.co.uk/School/PraeWoodPrimarySchoolStAlbans/Browse
OR online at www.schooltrends.co.uk
We also offer access to our second hand uniform stock, which is managed by the PWSA. Please contact the PWSA or the school office if you would like to make an enquiry about items.
UNIFORM LIST (years R-6)*
Winter jade sweatshirt or cardigan, with Prae Wood logo
Winter jade or white polo shirt (logo optional)
Grey trousers/shorts or skirt/pinafore
Black shoes, low heeled and supportive or plain trainers
Grey or white socks or tights
Summer dresses in winter jade check/stripe (optional)
Non-logo items can be purchased from any provider, such as supermarkets and/or clothing retailers.
It would also be useful to provide your child with an old, long sleeved shirt or apron to protect their clothing during art/craft activities.
Children in Nursery and Reception will also require a named pair of wellie boots, which can be left at school.
We also recommend a change of clothes in case of toilet accidents, which can be kept in a bag on a child's peg.
Uniform is optional for Nursery. Some parents choose to send their children in the uniform sweatshirt/cardigan with logo, some choose full uniform and others their own, comfortable clothes
*Governors have reviewed the school uniform in line with the latest government guidance.
PE KIT
Your child will need a PE kit to wear to school on PE days (see curriculum letter for the appropriate day). Navy shorts and a 'team colour' T-shirt for indoor physical education plus trainers .
Please check with your child's teacher if you need to know what colour 'team' your child will be a part of.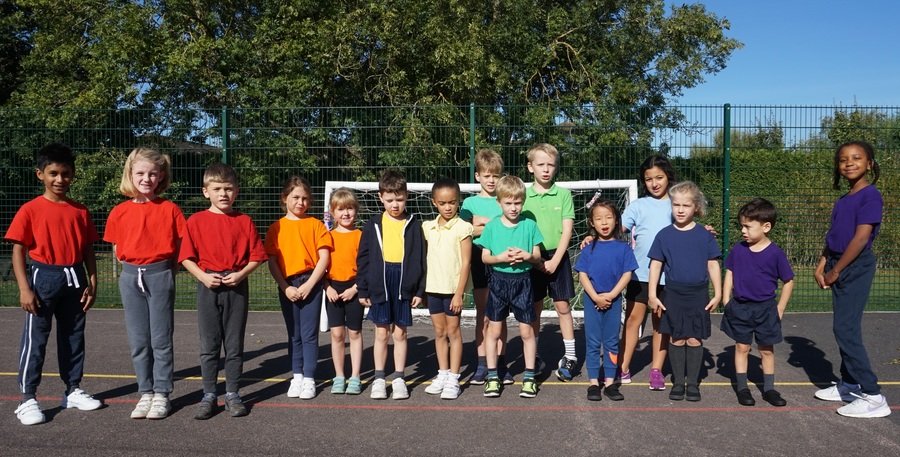 PE KIT LIST

Team colour t-shirt** (years R-6)
Navy sports shorts
PE socks
Trainers
Blue hoody and blue tracksuit bottoms for outdoor sports
PE lessons take place outdoors all year round as much as possible, so please make sure your child has appropriate warm clothing available.
**Pupils in Nursery are not required to wear a team colour- any plain t-shirt is suitable
SECOND HAND UNIFORM
All families have access to our second hand uniform sales, which are managed and run by a volunteer from the PWSA (Prae Wood School Association).
Please visit the PWSA page for further information
PLEASE ENSURE THAT ALL ITEMS BROUGHT IN TO SCHOOL ARE CLEARLY LABELLED WITH YOUR CHILD'S NAME so that we have a chance to reunite lost items with their owners