Goodbye to the Higham family
Goodbye to the Higham family
10 May 2023 (by admin)
Goodbye, and Good Luck!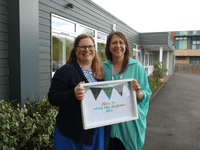 Today we welcomed Mrs Higham in to assembly to accept a little gift on behalf of the Prae Wood community. The family are relocating but we couldn't let them leave without thanking Mrs Higham for all her fantastic work as the previous Chair of the PWSA for several years. She was responsible for some fantastic fundraising events, as well as keeping our sense of community going through the challenges of covid and lock downs with clever events and trails around the local community. You might also have seen her fantastic bunting and cushions around the school, a theme that was picked up in the farewell gift presented by Mrs Welland today.
We wish the family all the best in their new start!