Take part in the ice lolly challenge
Take part in the ice lolly challenge
17 May 2023 (by admin)
Mike from ATW, the organisers of the St Albans Half Marathon, came into assembly this week to encourage children in Years 1 to 6 to take part in the family fun run taking place on Sunday 11th June.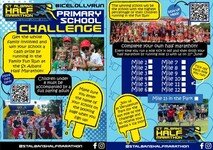 The children have all been given a flyer with details of how to enter, including the opportunity to help Prae Wood win a school prize. The flyer also encourages the children to complete a half marathon with mile 13 being the family fun run. Children can tick off the other 12 miles using their school Daily Mile or other running opportunities.
We hope the promise of a medal and an ice lolly will see lots of Prae Wood pupils take on this challenge.